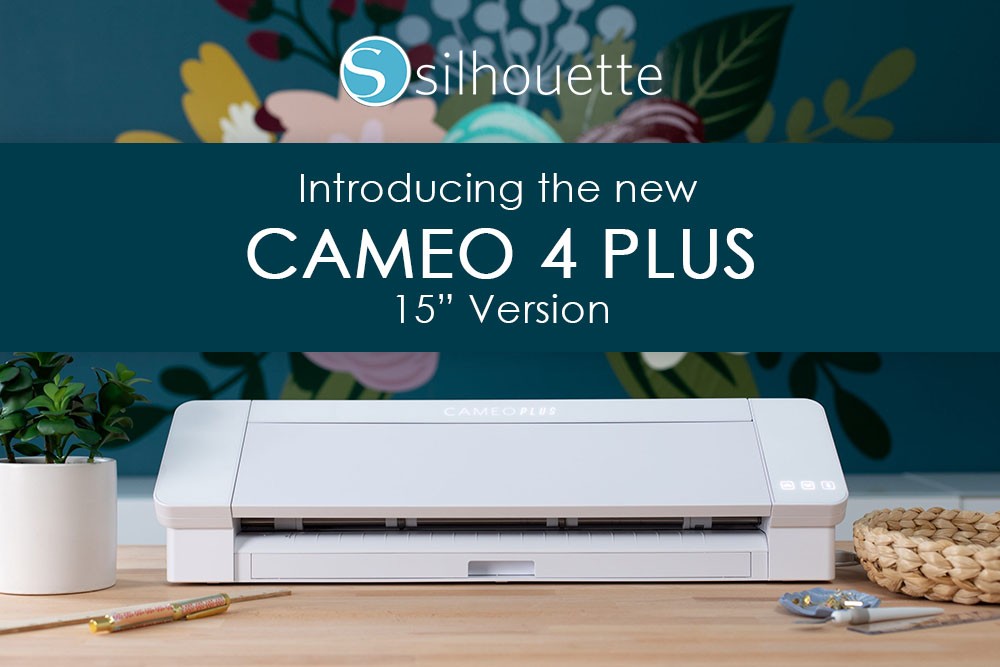 Silhouette CAMEO® 4 PLUS Cutter Plotter 15″
The Silhouette Cameo® Plus is a larger version of the Cameo 4 desktop cutting machine. It can accommodate material widths of up to 15 inches and lets you make precision cuts in vinyl, card-stock, fabric, and more. With the increased downforce of the Cameo 4 Plus, we now offer a new rotary and Kraft blade (Sold separately) that have been specifically designed to operate with the Cameo smart tangential technology. With smart tangential technology, it can cuts thicker material without sacrificing quality with each cut. This machine has a unique dual carriage allowing for tool Type detection. The Cameo 4 Plus carriage 2 boasts additional cutting force. The machine's ultra-smart system uses tool sensor technology that detects what tool you are using which then triggers the silhouette Studio software to adjust cut settings automatically.
Machine features:
Wider roller positions to accommodate materials up to 15 inches wide.

Built-in roll feeder allows you to easily load and cut rolled materials like vinyl and heat transfer.

Built-in cross-cutter lets you trim vinyl or heat transfer right from the roll.

Full 12-inch cutting width (when using a cutting mat) Cut up to 10 feet in length (with select materials).

Matless cutting capabilities (see Tech Specs for full details).

3 mm clearance for thicker materials.

Automatic tool detection.

Sleek, compact aesthetic with a sliding lid and feather-light backlit touch panel..

Wireless cutting with Bluetooth® connectivity.

Print & Cut registration capability.

PixScan™ compatible.

Driven by Silhouette Studio® giving you limitless design options to customize your projects.

Contains:
Silhouette Cameo® Plus.

Cameo Plus Cutting Mat (14.6″ x 15″).

Autoblade (Auto adjust blade).

Silhouette Studio® software (digital download).

100 exclusive designs (digital download).

1-month Silhouette Design Store subscription (available with tool registration).

Adapters for standard blade, premium blade, deep-cut blade, 2mm Kraft Blade, and Silhouette sketch pens.

Basic Instruction Guide (digital download).

Power cable & USB cable.