FREESUB Double Station Mug Press Machine
Mug press machines are the quickest and easiest way to get customized mugs. At first, there were single mug heat press machines, nowadays, there is a double station mug heat press machine, In which you can make two mugs at the same time. There are so many advantages to Mug Press Machine. Not just you can have this for your own use, you can start a small business with it as well. As it doesn't take much space, and equipment, you can easily set up a business and make profits from it.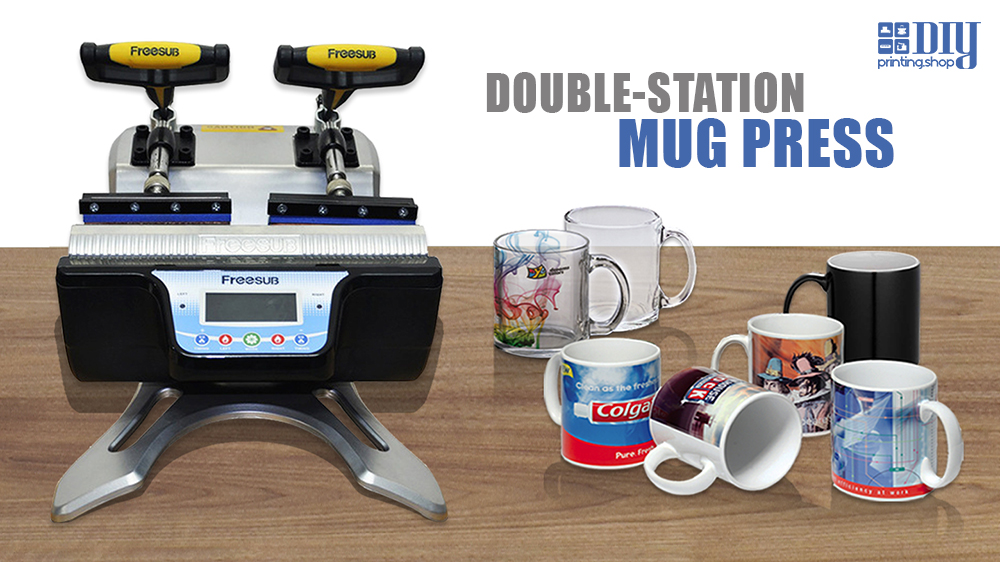 Advantage of the New Machine:
1.

Double-station control circuit board.
2. Intelligent Temperature Control, small temperature differences, long service life.
3. Two temperature display: Fahrenheit and Centigrade.
4. Processing capacity can be checked.

5.

Quantitative counting, you can preset processing capacity when bulk processing, machine will warn you when arrives.
6. Machine comes with temperature correcting function, that makes temperature on the screen the same to real temperature.

7.

Double-station, can transfer two mugs at a time.

8.

Independent research and development, patent products

9.

Machine color can be customized if large quantities.
Let's look at the steps of this double station mug heat press machine.
1.

First, you need blank mugs of any color that you choose.

2.

Sublimation paper on which your desired pictures are printed. You will need a printer for that, along with a computer.

3.

To set up the machine, preheat the machine with a temperature that can range from 190 to 200 Degree Celsius and 180 seconds.

4.

Preheat both sides in 190 Degree Celsius. After it's done., set the mugs inside the cylindrical slot.

5. Now, wrap the mugs with sublimation papers which contains the photo. Place the photo side on the outer part of the mug, so the picture can be on the mug. To stick the paper, use sellotape.

6.

It will be better if you do the wrapping part beforehand. This way after the preheat is complete, you can put the mugs instantly.

7.

Now put the mugs inside the cylindrical place and press the handles. Let it stay for 90 seconds.

8.

After the time limit is over, the machine will notify with a beep, and now you can release the handles and take out the mugs.

9.

Slowly rip open the sellotape and then the sublimation paper. You have the finished product Your desired picture has been printed successfully on the mug.
So you see, it is very easy to make customized mugs on a mug press machine. Needless to say, it is easier and less time consuming when its double station mug heat press machine. You can have two mugs at the same time. So if you're doing a business, you can save your time and make things faster.